039c. Sissy Bar Struts for 2005-2006 Big Dog Ridgeback & Pit Bull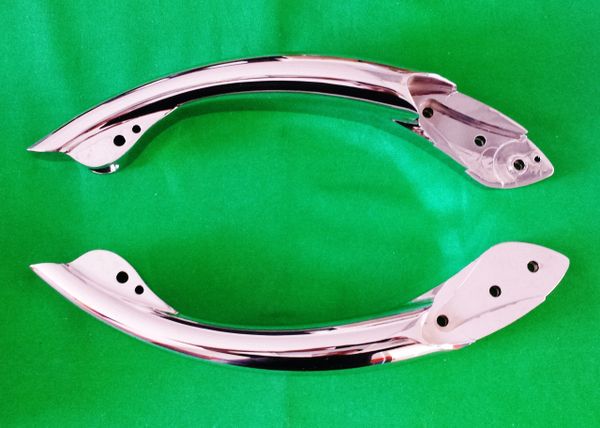 039c. Sissy Bar Struts for 2005-2006 Big Dog Ridgeback & Pit Bull
For 2005-2006 Big Dogs Ridgeback and Pit Bull motorcycles with the Rolling Thunder frame (will NOT fit Daytec frames).
These beautiful and beefy sissy bars struts are designed and machined by Ginz Choppers. Machined from 6061 aircraft grade billet aluminum, with machined sissy bar receivers designed to work with Ginz Choppers 11/16" diameter sissy bars. The tail light mount holes are located slightly more towards the rear than the OEM position, and requires the drilling of a new tail light mount hole on each side of the rear fender (all other strut mounting holes are in the same position as the mounting holes in the OEM struts). The old tail light mount holes are hidden behind the Ginz Choppers struts. By moving the tail light back, this provides for better positioning of the sissy bar and improved passenger comfort. Show quality chrome is our standard finish.
IMPORTANT: Requires disassemble rerouting of tail light wiring, and reassembly of tail light. This entails removal of lens, light board, unplugging the wire coupling, rerouting wire through the wire hole in the strut, and reassembly. In some cases, the push pins may need to be removed from the plug housing in order to reroute the wires, then slid back into the plug housing.
---
ORDER INSTRUCTIONS

1. Select Finish

2. Select Bike

3. Select "Add to Cart"
---
Note 1: All sissy bars and mounts kits are sold separately

Note 2: All parts finished in show quality chrome unless a different finish is selected

Note 3: 
Selected finish option for this page applies to the struts only