040b. Detachable Mount Kit for 2009-later HD Touring (HD Latches sold separately)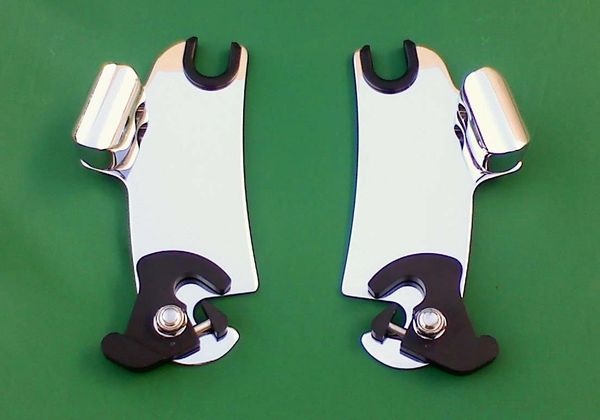 040b. Detachable Mount Kit for 2009-later HD Touring (HD Latches sold separately)
Detachable (quick release) sissy bar mount kit for 2009-later Touring models. Includes horseshoe inserts and easy to follow installation instructions. Shown with Harley Latches (not included-sole separately). 
Detachable mount kits are designed to install on the
2 rear docking points of the 4 point Harley docking kit
(docking kits are available at your local Harley dealer). 
IMPORTANT: Detachable sissy bar setup will not work with the Harley detachable luggage rack.
Sold in pairs. Available in chrome, black powder coat or "rat bar" finish (satin clear powder coat over surface rust).
NOTE: For "Rat Bar" finish, the hardware (spacers and fasteners) will be in satin black powder coat.

. 

4 Point Docking Kits are available from Ginz Choppers for 2014-later HD Touring models (reference number 040b1).

---

ORDER INSTRUCTIONS
1. Select "Standard Mounts" or "Extended Mounts" (extended mounts moves sissy bar 2 inches farther back towards rear of bike)
2. Select Finish
3. Select Sissy Bar Type

4. 
Select "Add to Cart"
---

Note 1: All sissy bars and mounts kits are sold separately
Note 2: Mounts and hardware parts finished in show quality chrome unless a different finish is selected

Note 3: 
Selected finish option for this page applies to sissy bar mounts and mounting hardware only (Harley Latches not included-sold separately)