040b. Detachable Mount Kit for 2009-later HD Touring (HD Latches sold separately)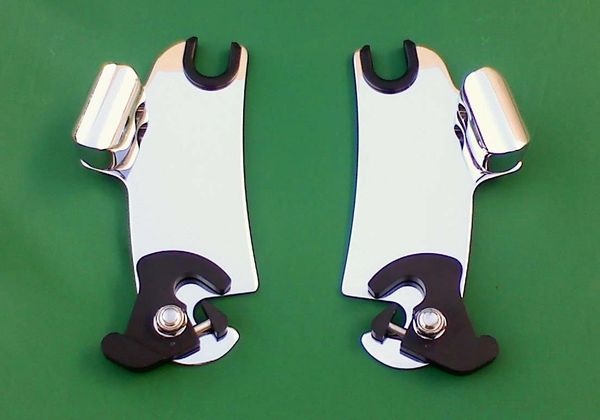 040b. Detachable Mount Kit for 2009-later HD Touring (HD Latches sold separately)
Detachable (quick release) sissy bar mount kit for 2009-later Touring models. Includes horseshoe inserts and easy to follow installation instructions. Shown with Harley Latches (not included-sole separately). 
Detachable mount kits are designed to install on the
2 rear docking points of the 4 point Harley docking kit
(docking kits are available at your local Harley dealer). 
IMPORTANT: Detachable sissy bar setup will not work with the Harley detachable luggage rack.
Sold in pairs. 

4 Point Docking Kits are available from Ginz Choppers for 2014-later HD Touring models (reference number 040b1).

---

ORDER INSTRUCTIONS
1. Select Finish
2. Select Sissy Bar Type

3. 
Select "Add to Cart"
---

Note 1: All sissy bars and mounts kits are sold separately
Note 2: Mounts and hardware parts finished in show quality chrome unless a different finish is selected

Note 3: 
Selected finish option for this page applies to sissy bar mounts and mounting hardware only (Harley Latches not included-sold separately)