050e. Backrest Pad - Embroidered Maltese Cross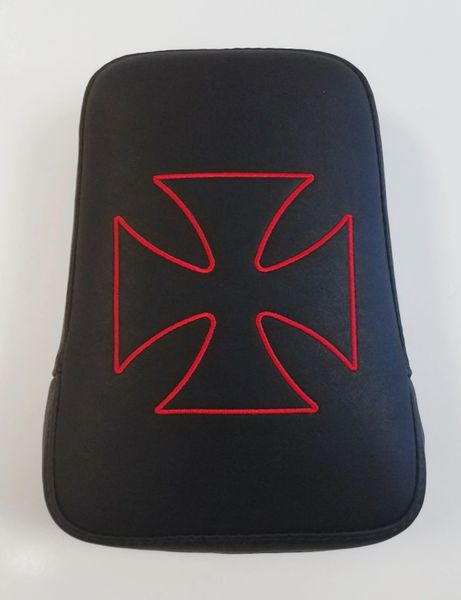 050e. Backrest Pad - Embroidered Maltese Cross
Super high-quality material, mold-poured foam and embroidery
stitch pattern. The perfect balance between softness and firmness. You won't find anything better out there.

Backrest pad and all mounting hardware included. Backrest pads available in 4", 6", 8" 10" or 12" heights (add $10 every 2"). In

stall or remove quickly and easily.
Comes with tapered sides, or available with straight sides to fit our Cathedral and Trident Classic sissy bars (if applicable, select option above).
Embroidered backrest pads are custom made to order. Please allow approximately 8 weeks.
---

ORDER INSTRUCTIONS

1. Select Finish - Mount and hardware will be in chrome unless another finish is selected
2. Select Height - Backrest pad will be 4" tall unless another size is selected

3. Select Pattern Stitch Color - Stitch color of pattern will be black unless another color is selected

4. Select Cathedral or Trident Classic option if used on one of these sissy bars

5. Select "Add to Cart"