009a. Ares (Ape Hanger Series)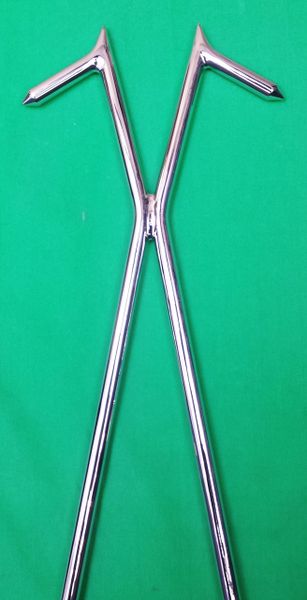 009a. Ares (Ape Hanger Series)
This is part of our Ape Hanger sissy bar line-up. This is a four piece sissy bar with "V" shaped tops and pointed tips on the ends, made from 11/16" diameter solid steel. The "X" weld joint approx 6" below the top of the bar. The dual "V" shaped tops make for an aggressive warrior look, like Ares, the Greek God of War. Each weld joint is wrapped all the way around and hand blended to perfection. Ape Hanger corner inserts may be purchased for this bar (sold separately on the Sissy Bar Inserts webpage).
Also available for 2015-later FLRT Freewheeler (add $299) made from 3/4" diameter solid steel (sissy bar must be minimum 20" tall) and includes the OEM quick release mount kit).
The Ares is available in 4 heights. Stated heights are approximate as measured from the top of the fender to the top of the bar. Add $20 for every additional 5".

---

ORDER INSTRUCTIONS
1. Select Finish
2. Select Bike

3. Select "Add to Cart"
---
Note 1: All sissy bars and mounts kits are sold separately

Note 2: All parts finished in show quality chrome unless a different finish is selected

Note 3: 
Selected finish option for this page applies to sissy bar, inserts (if ordered), and sissy bar bolts only