021a. Raging Fire (Show Stopper Series)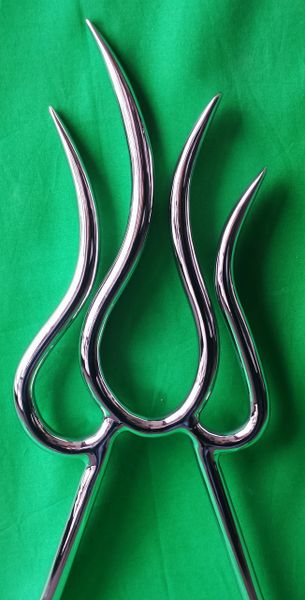 021a. Raging Fire (Show Stopper Series)
Multi-piece welded sissy bar. This design is contains multiple curves with many hours of forming and hand blending to achieve the look of a raging fire, made from 11/16" diameter solid steel. Since each one is custom made, there will be some variation in the profile of the flames. Each is weld joint has a 360 degree wrap around welds, each hand blended to perfection. A functional show-piece bar for those who want the ultimate in custom flame-themed motorcycles.
Also available for 2015-later FLRT Freewheeler (add $299) made from 3/4" diameter solid steel (sissy bar must be minimum 20" tall) and includes the OEM quick release mount kit).
Due to the size of the flame, the Raging Fire is available in only 2 heights. Stated heights are approximate as measured from the top of the fender to the top of the bar. Add $20 for every additional 5". 

---

ORDER INSTRUCTIONS
1. Select Finish
2. Select Bike

3. Select "Add to Cart"
---
Note 1: All sissy bars and mounts kits are sold separately

Note 2: All parts finished in show quality chrome unless a different finish is selected

Note 3: 
Selected finish option for this page applies to sissy bar, inserts (if ordered), and sissy bar bolts only